Ley-ann, congrats!!!
[/[Print]\]


---
#1: Ley-ann, congrats!!! Author: mutuk,
Location: Vice mayor Rojilyn Bagabaldo
Posted: Wed Feb 08, 2006 2:20 am


—


From: alan parungao <alan_parungao@...>
Date: Wed Feb 8, 2006 11:34 am
Subject: Congratulations to Ley-Ann

Congratulations to Avril Ley-Ann V. Recto, apo po ni
Mang Elo Valdecantos. From among the thousands of
student-participants in the Regional Schools Press
Conference held in Lucban, Quezon, last Jan. 30-Feb 3,
she has qualified to compete in the National Schools
Press Conference (NSPC) to be held in Kalibo, Aklan
(with sidetrip to Boracay perhaps).

Ley-Ann is only the 4th pupil from the District of
paete who qualified in the NSPC. First two were
Emerissa D. Mallari (PES) and Melanie Palima (QES)
back in 1995. They were followed by Aileen Africano
(PES) in 2003. Ley-Ann got 3rd place in Editorial
Writing (English)(Sample of Ley-Ann's work can be read
in
http://www.paete.org/forums/viewtopic.php?t=1167)She
is the editor-in-chief of the English Edition of Paet.

The NSPC is an annual event where student-writers from
all over the Philippines compete in the field of
campus journalism.



Let's all pray that she'll make it.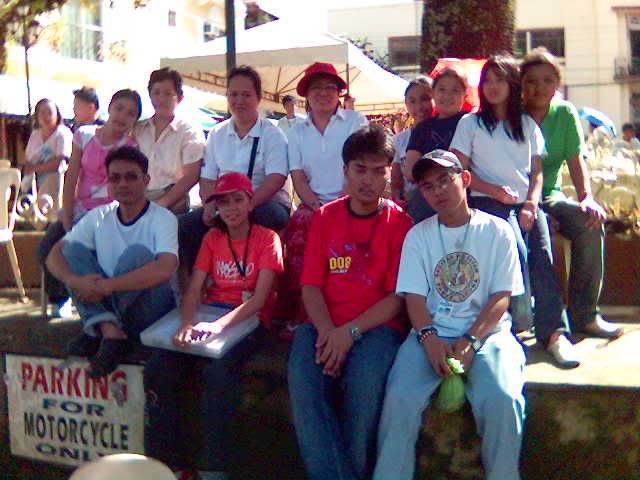 Picture taken last Feb 1, 2006 at Lucban, Quezon when we (Nelda, Marita and I - all Bagabaldo) visited the group of students to boost their morale as they participate in the regional school press conference held in Lucban,Quezon. Ley-ann is 3rd from right (wearing dark t-shirt), 2nd row.



Ley-ann, wish you all the best!!! Kaya mo yan!!! Kanino ka kaya nagmana . . . . sa iyong Lolo Elo?





Congrats also to Mam Juvy L. Alberto and Alan Parungao!!!

Their coaches.
---
#2: Author: aileenp,
Location: Paete, Laguna
Posted: Thu Feb 09, 2006 4:49 am


—


I have three ways to say "Congratulations!". First... glad to hear that news. Second...you`re so smart. Finally...you did it and I`m so proud of you! Break some walls in Aklan! Goodluck Ley-Ann! Congratulations also to Sir Alan and Ma`am Juvy! ( the guiding lights! )
---
#3: Author: Arjhei37,
Location: Paete, Laguna, Philippines
Posted: Thu Feb 09, 2006 6:42 am


—


hello po sa lahat....

Congratzzzz po kay Ley-ann, you're so galing talaga with matching tears of joy pa nang manalo, hehehehe.... Hanga kami sa'yo, biruin mo makakarating ka na sa NSPC, wow!!!! Di ka na ma-reach, joke lang.....

Keep up the good work, sana manalo ka sa NSPC nang makasali ka naman sa Universal Presscon...

CONGRATZZZZ uli......
Magpakasaya ka sa Aklan kasama si Big Lola ha.....

God bless and break a leg...[/url]
---
#4: congrats...! Author: chem,
Location: Chella Marie D. Valdivia
Posted: Sun Mar 19, 2006 6:34 am


—


Wow...!Grabe,ang galing mo Ley-ann..!Congrats po..!I'm so proud of you..!
Although we're not related to each other,I am really proud of you.Hope you would make it..!

Ley-ann was my schoolmate once upon a time in San Antonio Abad School..


Congratulations as well to Sir Allan and Ma'am Juvy..!


Good luck..!
---
#5: Congratzzz...! Author: Dominique Grace Galanido,
Posted: Wed May 17, 2006 12:05 am


—




Congratzzz, Ley- Ann!


Although hindi tayo medyo close I Congratulate you in winning in the regional... Ipagtuloy mo yan ha! Good luck to you...



I know you can do it!


Dominique Grace Galanido
---
#6: Re: Congratzzz...! ask ko lang sau grace... Author: rey,
Posted: Thu Jun 15, 2006 9:17 am


—




Dominique Grace Galanido wrote:

Congratzzz, Ley- Ann!


Although hindi tayo medyo close I Congratulate you in winning in the regional... Ipagtuloy mo yan ha! Good luck to you...



I know you can do it!


Dominique Grace Galanido

hello grace..
sino ung mga magulang mo ? tga san kau..meyron ba kau cousin doon sa bohol..kamag anak yata tau....
reytabogok@yahoo.com
---
---
---

output generated using

Powered by phpBB © 2001, 2005 phpBB Group